Kevin and Brittany Williams were in Hawaii
to inspire people. Though they were admittedly nervous.
Why? Because, they spoke at a business conference
with more than 300 people in attendance!
Why Did Kevin and Brittany Williams Speak
at a Large Business Conference in Hawaii?
You see, when you have a YouTube Channel with more than 130,000 followers, from the four corners of America and across the world, people take notice of what you're doing.
The owners of the YouTube Channel  "Lite Brite" has attracted social media followers far and wide. Besides having a spokesperson that looks like a fashion model, that also has a passion for racing drift cars at blazing speeds…
Brittany Williams and her off-roading husband Kevin Williams, with their cute little dog mascot  "Jelly Belly" or just "Jelly" for short, who wouldn't be a follower of what Kevin and Brittany have going on.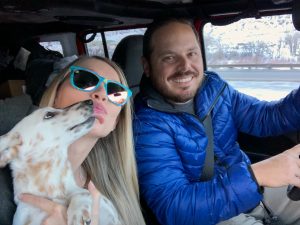 Look, when you have a social media presence like Kevin and Brittany Williams do, you want to see how they do it.
If you're in the business world, being able to tap into social media like Kevin and Brittany have been able to, you would do anything to discover their secrets.
This is why, with their "Lite Brite" social media YouTube Channel they were invited to a business conference of more than 300 people to share their secrets.
These are people who work with a million-dollar company, that wanted to walk away with the social media "secret sauce" brought by Kevin and Brittany's YouTube Channel "Lite Brite."
To have Kevin and Brittany Williams in the house, was an opportunity to teach this company's people how to leverage social media. They wanted teach their methods to 300 eager company instructors.
The conference was a big success, while the attendees got the social media education of a lifetime.
In the eyes of those who learned Kevin and Brittany's
social media strategies, Kevin and Brittany are rock stars.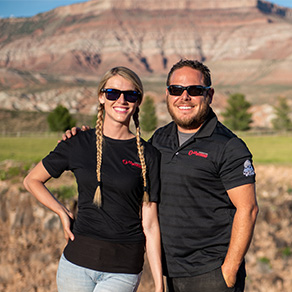 Kevin and Brittany Williams' Appearance At The
Business Conference Was Just The Beginning!
You See, That Is Only Part 1 of Today's Exciting News.
Because, their appearance went SO well, our dynamic duo
began filming their first official full-length
movie DURING the business conference!
It's Called "The Wheel Of Life"
Kevin and Brittany Williams from social media phenom Lite Brite on YouTube were there to inspire people. As you might expect, they were nervous. However, they got comfortable quickly, since "The Wheel of Life" began filming DURING the business conference. It was even hosted by a spectacular hotel in Hawaii, right on legendary Waikiki Beach!
Scenes have already been filmed on the beach in Honolulu. More have been filmed, but are in the production phase. It will take a few more weeks to finish, which will include shots from the conference, Waikiki Beach, plus, a look at the off-roading lifestyle back in Utah, the lifestyle Kevin and Brittany love so much.
Right Now, You Can Watch The Movie Trailer Below
After spending just a short time in Hawaii, they imagined they could easily retire here in Hawaii and chill.
After their successful speaking event, they were relieved, because it went way better than they thought it would.
Kevin and Brittany Williams are now real life movie stars!
They completed their video shoot, of "The Wheel Life." Plus, their talk with 300 people in attendance is over, and they did a great job helping the group. After the movie shoot, for their new movie "The Wheel Life, they enjoyed hugs and kisses and a day full of Hula lessons for all.
Exciting, right? You bet!
In just weeks, the entire E3 Offroad off road community will experience "The Wheel Life" for themselves.
Which all E3 Offroad Members will get to see soon.
Want access to the full length movie "The Wheel Life"when it's released to the world?
But you're not an E3 Offroad Member?
Get Full Access to "The Wheel Life" When You Join E3 Offroad Association Today