Empower, Educate, Entertain…
Get started today and achieve your Off Road goals in 3 easy steps:
Create Your Off Road Personalized Profile

You'll get help crafting a personalized action plan based on who you are and what is important to you in your off roading objectives. Whether you are a Beginner, a Novice or an Expert… no matter what level you are at now, you'll enjoy the best experience tailored to you.

Dive Into the Private Members Platform

We create a custom action plan and deliver the programs and content based on your wants and needs to get you on track toward a highly fulfilling, safe and fun off road experience. As you progress your platform will grow with you.

Enjoy Off Roading Even More

We never leave you in the dust. With monthly ongoing guides, maps, training, calls, webinars, live events, apps and much more… we're here to assist you in your journey and fulfill your ultimate off road experience.The E3 membership is ever evolving and grows with you every month.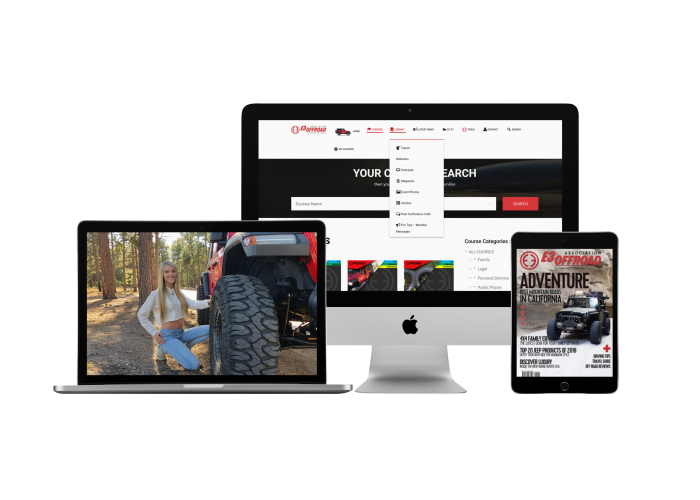 Just a few program features:
Beyond the basics.  If you're ready now, or want to be there soon, enjoy many of the advanced strategy sessions from rock crawling to advanced vehicle recovery.  There are many courses that can take you from where ever you are now to the next level.

The best minds in the industry bring you vetted education in our online classes.  This is not a group of YouTube videos.  These are courses with multiple lessons and resources to ensure you get success in every area.
National calendar with member events and industry events all over the world.  As a member, you'll get local notices.
Attend exciting events at impressive resorts and popular trails across the country and around the world.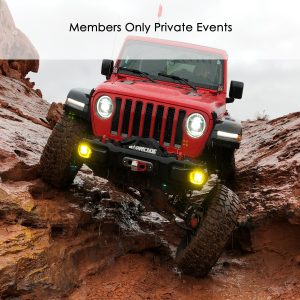 Members only trail rides and private gatherings.
Depending what level member you are, you get access to special exclusive rides with the team … the public will never know about.
Get the latest in articles, education, training, and more with the digital interactive magazine. View online or in your App. Watch videos, listen to training, interact and more. It's the latest in digital interactive technology.
Nowhere else online can you find this level of video content for off road training, entertainment, and advice.
Very limited travel events catered around the off road lifestyle. These first class all-inclusive trips are first come first served and has all the elements needed to have a great time, do some wheeling, and relax in style.
Dedicated live streaming TV channel. Members only webinars that you can interact with and ask your own questions. These are educational, informational, and eye opening from our top trainers and educators.
Join the E3 Team and special guests on exclusive members only limited trail rides. Tons of fun, food, talks, and more.
E3 OffRoad Association is proud to support Trail Hero.
We will be donating a percentage or proceeds from our training programs to this fine organization that is making a positive difference in the families of our military that need our help.
Unfortunately our public lands are at risk. Trail Hero has enlisted E3 OffRoad Association to help raise funds to fight back. This is a national issue, however it is happening in our own backyard. Environmentalists have become exclusionists not willing to work with all groups to develop equal opportunities to enjoy the outdoors. This effects everyone, not just Rock Sports. Our footprint for access is rapidly shrinking and people are giving land up in the name of "protection" not realizing they are giving away an amazing privilege so few understand.