THE E3 TEAM
Founders, Experts, and Corporate Team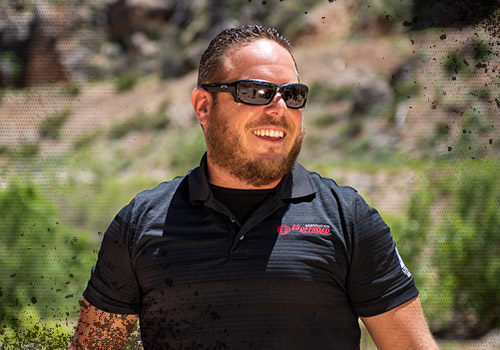 Kevin Williams
Co-Founder / Partner
In addition to being the Founder and driving the E3 OffRoad Brand, Kevin Williams is a full-time YouTuber! He helps his wife, Brittany, manage the company and a channel called Lite Brite. And together they travel the country, and sometimes even the world, all while bringing their subscribers and E3 Members along for the wild ride!
Born in California but raised in Las Vegas, Kevin's affinity for everything automotive began at the early ago of 13. Possibly by stealing and modifying his parents' cars without their knowledge. Living out in the desert, he was able to spend nearly every waking moment on dirt bikes and atvs, exploring areas most couldn't or wouldn't.
At the age of 18, Kevin joined the United States Airforce and trained as an aircraft rescue firefighter. His love for all things automotive only escalated from there, however, because now he had more money to spend!
"Whatever makes you happy? Do more of that!"
Eventually he found himself immersed in the world of drifting, competing on a pro-am level. The exhilaration was right down his alley, and it's what eventually led him to meet his future wife Brittany. They drifted together, and soon thereafter discovered the world of off roading together.
While following their passion for everything automotive, and chasing their dreams to enjoy life to the fullest, Kevin and his wife have found a way to inspire others to do the very same.