The Elite Online and Live Membership for Those Who Want to Have the Most Fun and Excitement On and Off the Trail!
Brought to you by Kevin and Brittany Williams from Lite Brite Studios.
Join the #1 Off Road Membership for People Like You Who Are Passionate About Playing off the Beaten Path and Enjoying the Outdoors!
Kevin and Brittany Williams from Lite Brite Studios
Kevin and Brittany Williams are living a life most of us can only dream of. To follow their passion, they made an exciting decision and headed out in their Jeep to conquer every trail they could. Along the way they've been sharing what they've learned – the good, the bad and the ugly – and built a huge, loyal following on their YouTube channel.
Now they're taking their real-world knowledge and partnering with other industry experts to bring you the #1 online destination for off roaders who want to improve their skills and have a lot more fun.
Here Are Just A Few Ways E3 OffRoad Will Dramatically Improve Your Off Roading Experience:
Discover the skills
you need to survive on the trails…
From picking the right tires, to properly adjusting your vehicle… we'll show you all the tips, tricks and tactics you need to make it back home.
Join an elite group
of off road enthusiasts just like you!
Share your epic climbs and colossal failures with other people who "get it" and will support you and help you, no matter what.
Get out on the trails
more!
With new skills, tools, information and more, you will naturally spend more time doing what you love most… getting out on the trails!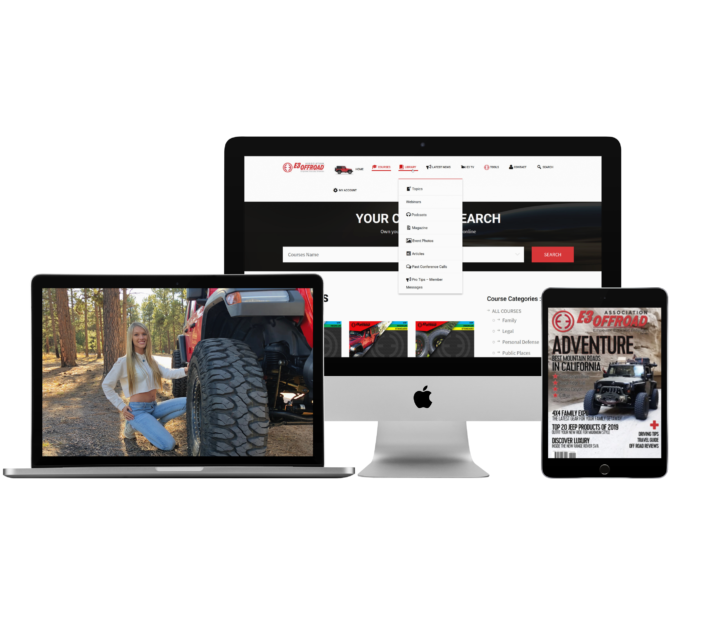 Get connected with Kevin, Brittany and other like-minded off road enthusiasts learning and having a blast together.
Tons of valuable real-world off roading advice in various forms from videos to magazines to live online and offline events.
Go apply everything you learn on the trails and watch your off road skills and enjoyment explode!
E3 OffRoad Association Proudly Supports
E3 OffRoad is a proud supporter of Team Rubicon, donating a portion of every membership. Team Rubicon is an international disaster response nonprofit that unites the skills and experiences of military veterans with first responders to rapidly provide relief to communities in need. Founded in 2010 with the express goal of quickly responding to large scale disasters, Team Rubicon has deployed thousands of volunteers across the United States and the world to provide relief to communities in need.